Kyoto Free Night Walking Tours
Duration

6:30pm - 8:00pm

Tour type

See scheduled departure dates on our Facebook page.

Group size

Minimum x 1 / Maximum x Unlimited Guests

Transport

Walking

Location

Kyoto (Gion & Higashiyama Districts)
¥0 per/person
Price is inclusive of all taxes & service charges. No more to pay!
Started by two fabulously knowledgeable friends from Australia, this FREE tour takes you on a journey through the old capitals Geisha districts, past Shinto shrines, Buddhist Temples, & other local night time haunts usually overlooked by first time visitors to Kyoto. The tours are free! NO BOOKING PROCESS IS NECESSARY! 1. Simply go to our "Kyoto Free Night Walking Tours" Facebook page - www.facebook.com/jamjarexperiences 2. Choose the date required from the available "Events" listed 3. Click the "going" button 4. Arrive at the designated meeting place 10 minutes prior to our departure at 6:30pm
The tours are free! NO BOOKING PROCESS IS NECESSARY!
1. Simply go to our "Kyoto Free Night Walking Tours" Facebook page: www.facebook.com/jamjarexperiences
2. Choose the date required from the available "Events" listed
3. Click the "going" button
4. Arrive at the designated meeting place 10 minutes prior to our departure at 6:30pm
THANK YOU!
DANNY MATHESON & KAZUO IKEDA
(Owner/Operators – Jam Jar Lounge & Inn)
---
HIGHLIGHTS
Gion Geisha District
Minamiza Kabuki Theatre
Hanamikoji Street
Yasaka Pergoda
Night View Of Kyoto from Kodaiji Temple
Ishibei-koji Alley
Yasaka Shrine
SUITABLE FOR
Walkers of any age. Although the course is mostly flat, there are some steps to navigate. We will do approximately 8,000 - 10,000 steps during the course of the tour. Fitness Level Required 6/10.
WHAT WE WILL DO
WHAT WILL WE DO ? ........ Focusing mainly on the historical areas of inner Gion & Higashiyama, we will walk past ancient Shinto Shrines, illuminated Buddhist Temples, secret bars in hidden alleyways, and of course do our very best to spot the elusive Geisha on her way to an appointment. Photo opportunities abound when we walk through the quiet residential area of Ishibei-koji alley and imagine Kyoto 200 years ago , before making our way to the famous Yasaka-no-Tour pergoda for that perfect shot. After a night view of Kyoto city we will explore Gion's main shrine the Yasaka Jinja with it's long history and amazing sub-temples. At the conclusion of our tour, your guide will be only too happy to assist with your forward journey, or recommend delicious eating spots for you to enjoy! So come join us for a relaxed and informative walk through the old capital of Japan and learn fun facts that you won't find in any of your guide books.
WHERE WILL WE MEET ? - Our tour will commence at 6:30pm sharp from the Statue of Izumo-no-Okuni, Kawabatacho, Higashiyama-ku, Kyoto, Japan 605-0076.
(See map on our Facebook page for further details).
PLEASE NOTE - In fairness to other members of the group, your guide cannot wait for any guests who find themselves running late. To avoid disappointment we encourage all guests to arrive at least 10 minutes prior to the commencement of the tour. Thank you!
HOW DOES IT WORK? ........ IS IT REALLY FREE?
One question we are asked regularly is "how can the tours be free?". The tours are 'free', because unlike regular tour providers' services, there is no set price for taking a tour, no prescribed fee to pay regardless of the tour experience itself. Instead, you are free to 'tip' your guide as you see fit after your tour.
This is perhaps a 'strange' idea to get used to initially, but there are a number of reasons why this style of touring has taken off around the world. As the tour guides don't receive any other income for giving these tours, (from any organizations or local bodies), this means they must really earn their tips. As their income will tend to fluctuate from tour to tour, the guides' motivation to deliver a top-quality tour is ever-present, meaning far less room for complacency on their part than if they were being paid a set amount for a guided tour. The tour itself must be great for the concept to work.
HOW MUCH SHOULD I TIP?
Tipping your guide at the end of the tour means the power is yours. Although not obligatory, you decide what the tour was worth or what you can afford, if anything. Therefore the amount you tip is completely up to you.
What's more ...... thanks to your contributions, we can ensure that people from all economic backgrounds are able to share the culture, history and scenic beauty of our city. Tips provide an additional motive for guides to improve their tour every day and make them as fun and engaging as possible.
HOW DO I JOIN ? - Simply choose the available date from our events posted on our Kyoto Free Night Walking Tours Facebook page (www.facebook.com/jamjarexperiences), then click the "GOING" button. As long as we have one person confirmed then our tour will go ahead. Details on where & when to meet your guide are listed in detail on our Facebook page. It's as easy as that!
KFNWT'S RESPONSIBLE TOUR TIPS ............ "Kyoto Free Night Walking Tours" is committed to travelling in a way that is respectful of the local people, their culture, economy and environment. It's important to remember that what may be acceptable behavior, dress and language in your own country, may not be appropriate in another. Please keep this in mind when joining us and endevour to practice the following:
Always dispose of litter thoughtfully, including cigarette butts.
Please ask and receive permission before taking photos of people where possible, including children.
For environmental reasons, try to avoid buying bottled water. Fill a reusable water bottle or canteen with filtered water instead
Refrain from touching or interfering with ancient monuments, relics or historic sites.
Learn some Japanese greetings and don't be afraid to use them - it will help break the ice.
Shop for locally made products. Supporting local artisans helps keep traditional crafts alive.
Be respectful and modest when visiting temples and monasteries.
Elderly people are very much respected in Japan, and it's customary to allow them to go first when entering buildings or walking on public streets.
FAQ
IS THERE AN AGE RESTRICTION ON THIS TOUR ? - Our tours are open to all ages as long as infants and children under 16 are accompanied by a parent or guardian.
ARE ALL TOUR GUIDES QUALIFIED ? - All of our guides are Kyoto locals, and have worked, or are still working, as professional tour guides for various tour companies in Japan.
DO YOU CONDUCT YOUR TOURS IN ANY OTHER LANGUAGES ? - At this stage we only offer our tours in English. Although it is not necessary to be a native English speaker to participate, a good grasp of the English language would be advisable to make the most of your tour with us.
DO YOU EVER CANCEL TOURS ? - Cancelling a tour is always a last resort, and we try as much as possible to avoid this action. Having said that, occasionally due to bad weather or other "Acts of God", we have found it necessary to cancel certain tours. If this is the case, we are committed to posting the cancellation notice on our website as soon as possible to avoid causing our guests any inconvenience. As always we encourage you to check the appropriate event post on this Facebook page before making your way to our meeting point.
CAN I LEAVE THE TOUR AT ANY TIME ? - Yes. Although we would like you to enjoy the whole experience, we understand that some guests may have other commitments and need to leave the tour early.
WHAT IF I HAVE TO CANCEL AT THE LAST MINUTE ? - We here at KFNWT understand that circumstances beyond your control may prevent you from participating in our tour at the last minute. As this is a FREE tour, no action is required on your part, and we hope you can join our next scheduled departure. If you would like to reschedule, please ensure you express your "interest" on the appropriate event, listed on our Facebook page.
________________________________________________________________
DISCLAIMER - Kyoto Free Night Walking Tours is a free English speaking tour available to anyone who wishes to participate. Although our guides we will take every precaution to ensure your well-being during the tour, KFNWT is not responsible for the safety of it's participants, and strongly encourage guests to ensure they have the appropriate travel insurance for Japan.
PRIVACY POLICY - Here at KFNWT, we recognize that earning and retaining your trust is one of the most important things we do as a business. Protecting your privacy is a responsibility we take very seriously. KFNWT collects only two types of information about you - personal information (such as name and e-mail address) and aggregate information (such as information about how many users visit our site). We will only require the minimum personal information needed, and will use it only to provide the services you have requested. This Privacy Policy does not address, and we are not responsible for, the privacy, information or other practices of any third party, including any third-party distribution partners, suppliers and tour operators, and any third party operating any site to which our websites contains a link.
Kyoto Free Night Walking Tours does not share personal information with third parties unless required to by a lawful request such as a "supoenae", or if we believe that the health or safety of another person or the general public may be compromised if we do not.
THANK YOU! We look forward to welcoming you on our next tour.
"KYOTO FREE NIGHT WALKING TOURS"
INCLUSIONS
NOT INCLUDED
Gratuities for your Guide
Souveniers
Travel Insurance
KNOW BEFORE YOU GO
Our tour will average 10,000 steps. Although mostly flat, there are some stairs involved which would require a certain amount of fitness (6/10).
Participation in any of Kyoto Free Night Walking Tours is strictly voluntarily and free of charge.
By participating in any of our tours you are agreeing that "Kyoto Free Night Walking Tours" is not responsible for any damage, injuries, accidents, etc, which might occur during the tour.
Insurance of any kind is not provided by us, and all participants are responsible for their own safety.
TOUR STARTING POINT
In front of the Izumo no Okuni statue on the banks of the Kamo River, right next to Keihan Gion Shijo subway station entrance.
TOUR ENDING POINT
Yasaka Shrine
BOOKING CONDITIONS
IMPORTANT: The tour will go ahead when there is at least one "Going" pressed on the event listing (posted on our Facebook Page), by midnight the previous night.
CANCELLATIONS
Tour may be cancelled due to lack of numbers or weather conditions. Please check our website for any updates or announcements.
Kyoto Free Night Walking Tours
Duration

6:30pm - 8:00pm

Tour type

See scheduled departure dates on our Facebook page.

Group size

Minimum x 1 / Maximum x Unlimited Guests

Transport

Walking

Location

Kyoto (Gion & Higashiyama Districts)
¥0 per/person
Price is inclusive of all taxes & service charges. No more to pay!
You can only buy one item at a time.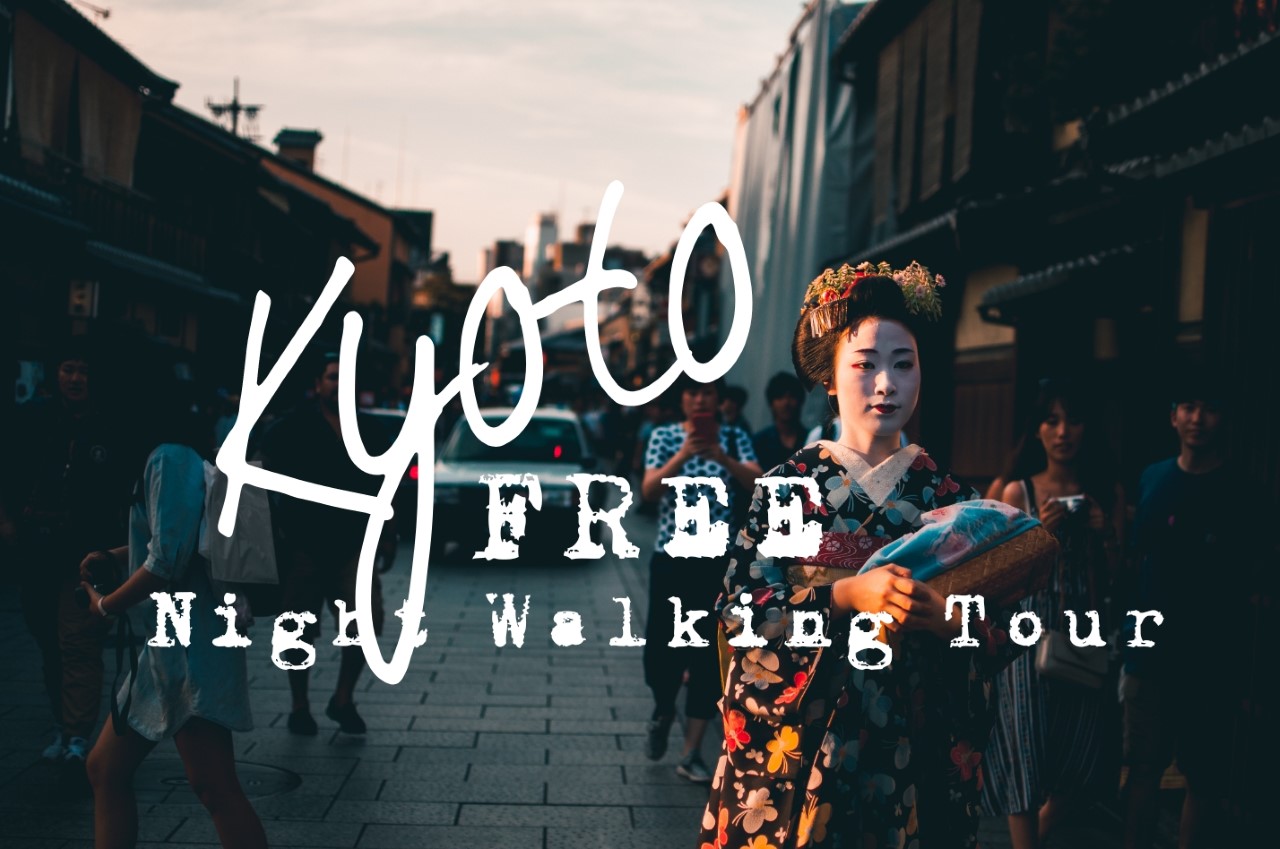 JAM JAR EXPERIENCES
Join our private walking tours to experience the hidden delights of Kyoto.