TEA CEREMONY & TRADITIONS TOUR
Duration

09:00am – 2:00pm (5 hours)

Tour type

1/2 Day Tour

Group size

Minimum x 2 / Maximum x 6 guests

Transport

Public Transport

Location

Kyoto
¥15,500 per/person
Price is inclusive of all taxes & service charges. No more to pay!
Traditionally the "Japanese Tea Ceremony" (or Chadou) was reserved for royalty and the elite. Now this fascinating and ancient ceremony can be enjoyed by visitors from all walks of life.
Due to the world wide popularity of Matcha Tea in recent times, many of our guests here at Jam Jar Lounge & Inn have been requesting the opportunity of participating in this very unique and often misunderstood Japanese tradition.
For the uninitiated it can sometimes be difficult to decide which ceremony is the best option for them. The old adage, "you get what you pay for" has never been more relevant when looking for an experienced tea master. Kyoto is the home of tea in Japan, and tea masters in this city take their craft very seriously. The setting is almost as important as the ceremony itself, and the chance to ask questions in English is rare.
This year I was very fortunate to be invited to experience a ceremony with one such master at her home near the famous Ryoan-ji Temple, not that far from Jam Jar Lounge. I have to admit I was never a devotee of the Tea Ceremony until this hour long experience totally changed my mind. It may have been the caffeine, but I felt totally relaxed and almost enlightened by the experience. Combine this with a relaxing Japanese lunch, and a stroll through the beautifully maintained gardens of the Ryoan-ji Temple, and I can almost guarantee you will tap into your inner Zen
If you have ever entertained the idea of experiencing a traditional Tea Ceremony, allow us to take the hard work out of it for you. You won't be disappointed. Thank you.
DANNY MATHESON & KAZUO IKEDA
(Owner/Operators – Jam Jar Lounge & Inn)
---
HIGHLIGHTS
Stroll through Kyotos oldest Geisha district (Kamishichiken)
Take part in a traditional Tea Ceremony with English commentary
Enjoy a traditional Japanese Bento lunch
Visit 2 x Unesco World Heritage listed temples
(KINKAKU-JI & RYOANJI)
SUITABLE FOR
Guests who wish to immerse themselves in Japanese tradition & culture.
WHAT WE WILL DO
We will start our day with a leisurely stroll through Kyoto's oldest Geisha district, Kamishichiken, with it's rows of perfectly preserved "kyo-machiya" townhouses and secret laneways, before continuing on to the world renowned Kinkakuji Temple, (also known as the Golden Pavillion).
After we capture the perfect picture, we will make our way through the gardens and take a short bus ride to experience the intricacies of the ancient Japanese tradition of Tea Ceremony. This one hour ceremony was first mentioned in scriptures dating from the 8th Century, and will be performed by a kimono clad "tea master" in a 100 year old traditional Kyoto house, overlooking an exquisite Japanese garden.
Time to stretch our legs with a short walk to our lunch destination. After enjoying a specially prepared Japanese Bento Lunch Box in the gardens of the Ryoan-ji Temple, we will take time to tour this famous World Heritage listed site, and contemplate it's much talked about "Dry Landscape Garden", before our tour ends and we make our way back to Jam Jar Lounge or your onward journey.
INCLUSIONS
English speaking local guide
All public transport costs
1 x hour private Tea Ceremony (in English)
Matcha Tea & Traditional Sweets
Entry to Ryoanji Temple (World Heritage Site)
Entry to Kinkakuji Temple (World Heritage Site)
Traditional Japanese Bento Box Lunch
NOT INCLUDED
Transport to/from meeting point for guests not staying at Jam Jar Lounge & Inn
Souvenirs and items of a personal nature
Additional food & beverage not outlined above
Tips & Gratuities
KNOW BEFORE YOU GO
A moderate amount of walking will be involved (approximately 8,000 steps). Although we will be walking at a leisurely pace, there are quite a few steps at both Kinkakuji & Ryoanji Temples. A moderate fitness level would be required (6/10). Please ensure you have sturdy comfortable walking shoes & water.
Our lunch will be a traditional Japanese bento box, enjoyed in the gardens of the Ryoan-ji Temple. Vegetarian options are available. (In the event of rain on the tour day, lunch will be provided at Jam Jar Lounge after the tour).
Any existing dietary requirements and/or food allergies should be advised upon booking.
Guests will be required to remove their shoes when entering both the Tea Ceremony & Lunch venues. Guests should also be aware that although cushions are provided, there may be prolonged periods of sitting on traditional tatami flooring.
TOUR STARTING & ENDING POINT
Jam Jar Lounge & Inn
BOOKING CONDITIONS
Tours must be paid in full prior to commencement date
Minimum x 2 / Maximum x 6 guests
PLEASE NOTE - Solo travellers are welcome to contact us directly via our website to check availability or make a booking.
Cancellation fees will apply
CANCELLATIONS
Cancellations recieved up to 7 x days in advance of the scheduled departure date, will incurr no cancellation fee - (Fully refundable).
Cancellations recieved between 3 and 6 days of the scheduled departure date, will incurr a 50% cancellation fee.
Cancellations recieved within 2 days of the scheduled departure date, will incurr a 100% cancellation fee - (Non-refundable)
In some rare cases, the tour may be cancelled due to weather or other circumstances beyond our control. In the unlikely event that the tour is cancelled by us, you may choose between a rescheduling of the tour, a full refund of all monies paid OR a credit towards an alternative tour. If you choose to accept a credit, the difference in the cost of the alternative tour will be refunded or paid by you as applicable.
TEA CEREMONY & TRADITIONS TOUR
Duration

09:00am – 2:00pm (5 hours)

Tour type

1/2 Day Tour

Group size

Minimum x 2 / Maximum x 6 guests

Transport

Public Transport

Location

Kyoto
¥15,500 per/person
Price is inclusive of all taxes & service charges. No more to pay!
この商品はおひとり様につき1点づつのご購入となります。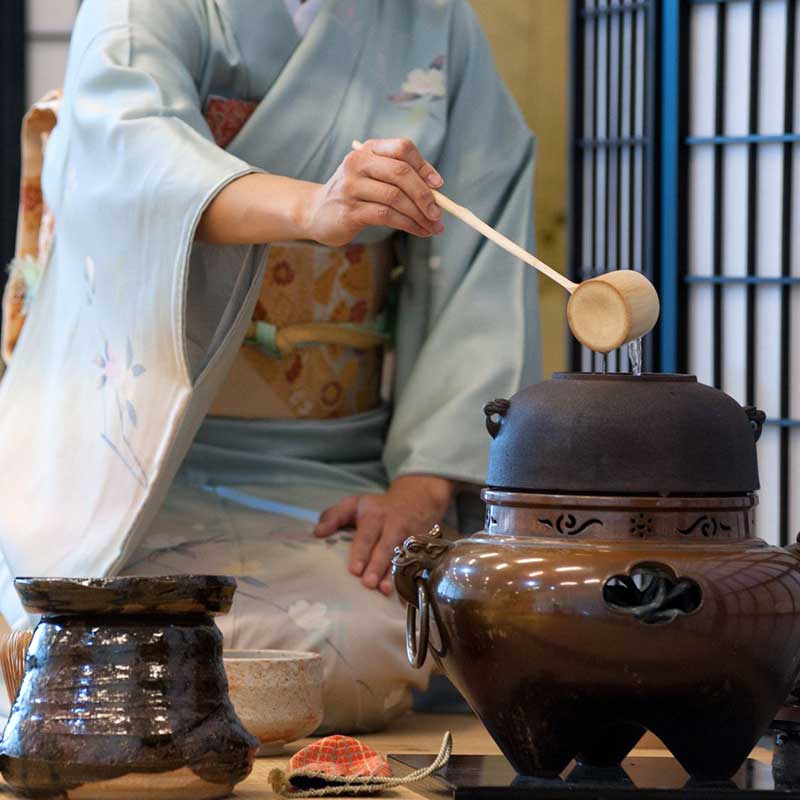 JAM JAR EXPERIENCES
Join our private walking tours to experience the hidden delights of Kyoto.